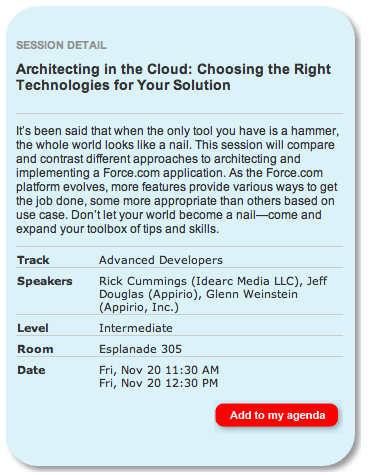 If you are participating in the Advanced Developer track at DF09, don't miss my session, "Architecting in the Cloud: Choosing the Right Technologies for Your Solution". We've had a couple of dry-runs with Dave Carroll and Rick Cummings and the info very compelling. Rick talks about some of his recents projects and I outline two case studies involving Informa and DeVry University.
The first case study is a Force.com Sites project and why we chose Sites over Google App Engine. The second case study is very tech heavy. We go into transactions, future methods and best practices to work within the Force.com platform. We also look into something we developed at Appirio called the "heartbeat" pattern. There is alot of code and some live demos so it should be a good time for all!
So if you are still around Friday morning and somewhat sober, stop by for this session.