One of the things that Salesforce.com is lacking is a descent tree control to display hierarchical data. I did notice a screenshot on the Winter '09 Developer Screencast of a tree control but according to our Salesforce.com technical reps there are no plans to release this.
There is a really good Flex tutorial on developer.force.com concerning this topic, but one of their main takeways is:
NOTE: You should be very careful when using nested queries as you can easily run into governer limits.
We have a large hierarchy with thousands of nodes, so governor limits is certainly a consideration. Therefore, I decided to create a tree that loads the first two levels of the hierarchy and then lazily loads the subsequent level childen when they are clicked on.
You can run this demo on my Developer Site. You might also want to check out this post on the basics of connecting Flex to Salesforce.com.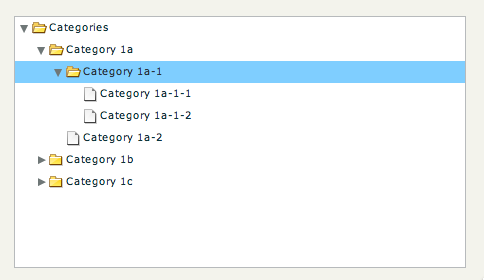 There is a reallygood tutorial on Adobe's site that has alot of great information regarding XML and trees if you are interested. I have some plan to add drag and drop capability in the near future.