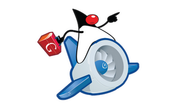 It only took a year (not bad) but now in addition to Python, Google App Engine now supports Java. This will be a huge boost to App Engine as it opens the service to a wider range of developer. I've played around with a few apps but I lacked the Python language knowledge to really create anything of substance.
I received my confirmation for the Java version yesterday and have just begun to poke around. Some of my favorite features include:
Eclipse Plugin for App Engine
Create applications for both GWT and App Engine
As-you-type code validation and syntax highlighting
Run and debug (within Eclipse) applications locally
App Engine deployment
Support for JUnit (with datastore also!)
AppEngine Java SDK
Support for Java 5 & 6 (Awesome!)
Command line access to Google App Engine
Dev web server to local testing. The server simulates the runtime functionaltiy of App Engine and all of its services including the datastore
ANT scripts for common development tasks
Implementations of JDO and JPI for access to the datastore (includes a query engine)
Cron and Memcache support
Authenticate user via Google Accounts
Uploads via CSV to the datastore
I think my first application will be a simple Salesforce.com account browser. I'll see how easy it is to import the Enterprise WSDL and start developing.
Update: I just found out that the Java Early Look doesn't currently support web services ("We do not currently support JAX-RPC or JAX-WS.") Here's a list of what is and is not supported.