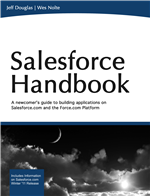 Wes Nolte and I have been hard at work on our new book, The Salesforce Handbook, really burning the midnight oil. We have a rough-cut of all chapters and Wes has even designed this nifty-looking cover. Our goal is to have the book wrapped up within the next 4-6 weeks, just in time for Dreamforce 10.
Here's where we need your help? We are looking to send out a rough draft of the book to 3-5 people to review to see if we missed anything or should elaborate on certain topics. In return we'll provide you with a free electronic copy of the book complete with both pictures and actual words.
If you are interested in helping out, please see this page for more details and to sign up.