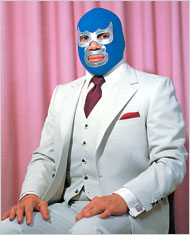 I'm at gluecon all this week hanging out with cool guys like James Governor (Redmonk) and Pat Patterson (salesforce.com) and listening to some great cloud, mobile, APIs, and big data presentations!
If you are in the Denver area you should definitely attend gluecon (it was #awesome last year) and skip the other two competing sessions to attend mine, Wrestle Your NoSQL Data with DynamoDB. We'll cover the relationships between NoSQL databases and the Mexican Wrestling League. No kidding.
If you're a developer, gluecon is your conference. Gluecon covers topics like NoSQL, API's, Node.js, HTML5, Backend-as-a-Service, cloud management and security, cloud storage, Hadoop, DevOps, Mobile App development, cloud platforms, and many, many others.